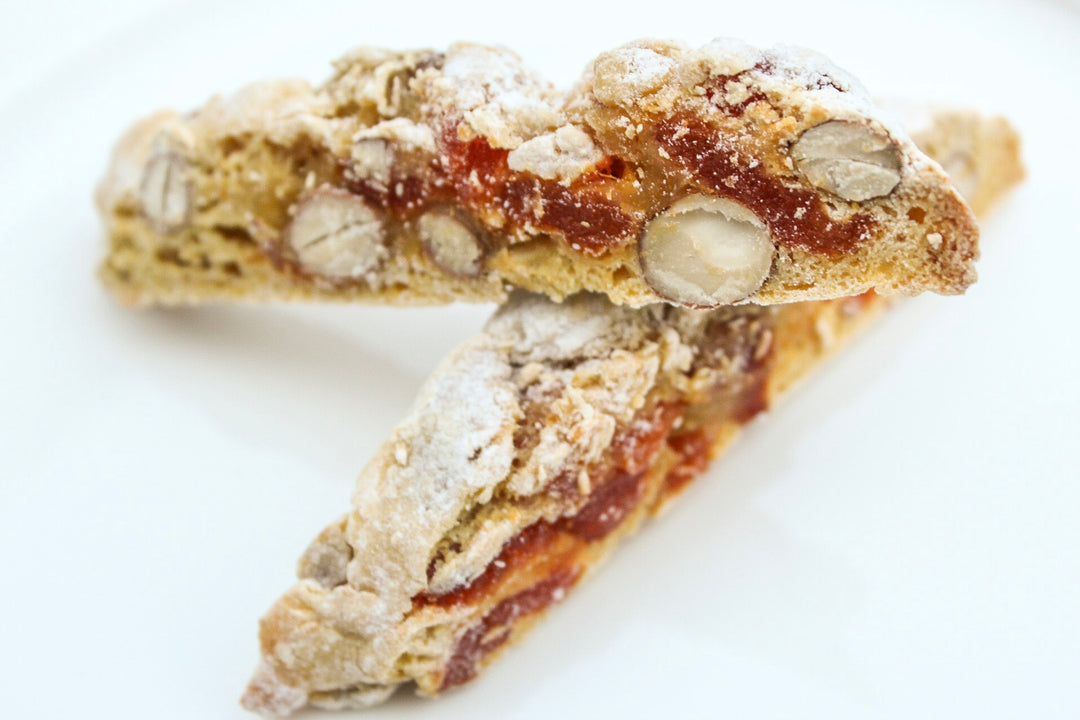 Posted on
---
Ingredients:
1 cup plain flour

½ cup white sugar

1 teaspoon baking powder

2 eggs

½ cup dried apricot slabs (tear them apart a little bit to make smaller pieces)

½ cup natural or roasted almonds

½ of an oranges juice and zest
Instructions:
Heat oven to 320 (160 C) and line cookie tray with wax paper

Sift the flour and baking powder in a bowl then stir in the sugar.  Add the almonds and apricots.

Lightly beat the eggs and add to the mixture along with the zest and mix until combined.

On a well floured surface (about ½ a cup of flour) roll the mixture onto the log about 3 ½ inches wide and long enough to fit on the cookie tray.  Leave about 2 inches at each end to allow for room for the biscotti to grow.  

Bake for 15-18 minutes until slight golden crust has formed.  Remove from the oven and allow to cool completely.

Once cooled cut the biscotti diagonally into about ½ inch pieces.  

Once cut lay on their sides and return to the oven set at 300 (150C) for 10 minutes on each side until they are all golden brown.  

Enjoy!
Quick links
Contact
Telephone:  800-398-1043
13501 Cogswell Road
Hickman, CA 95323
info@stackhouseorchards.com
About us
 For over 50 years Rodney and Don Stackhouse have been farming together in the fertile San Joaquin Valley of California. Second generation orchardists, they have spent their whole lives growing only the very best quality fruit and nuts and finding a way to make them available directly to you. This personal, family farm approach ensures the premium quality and consistency you deserve.