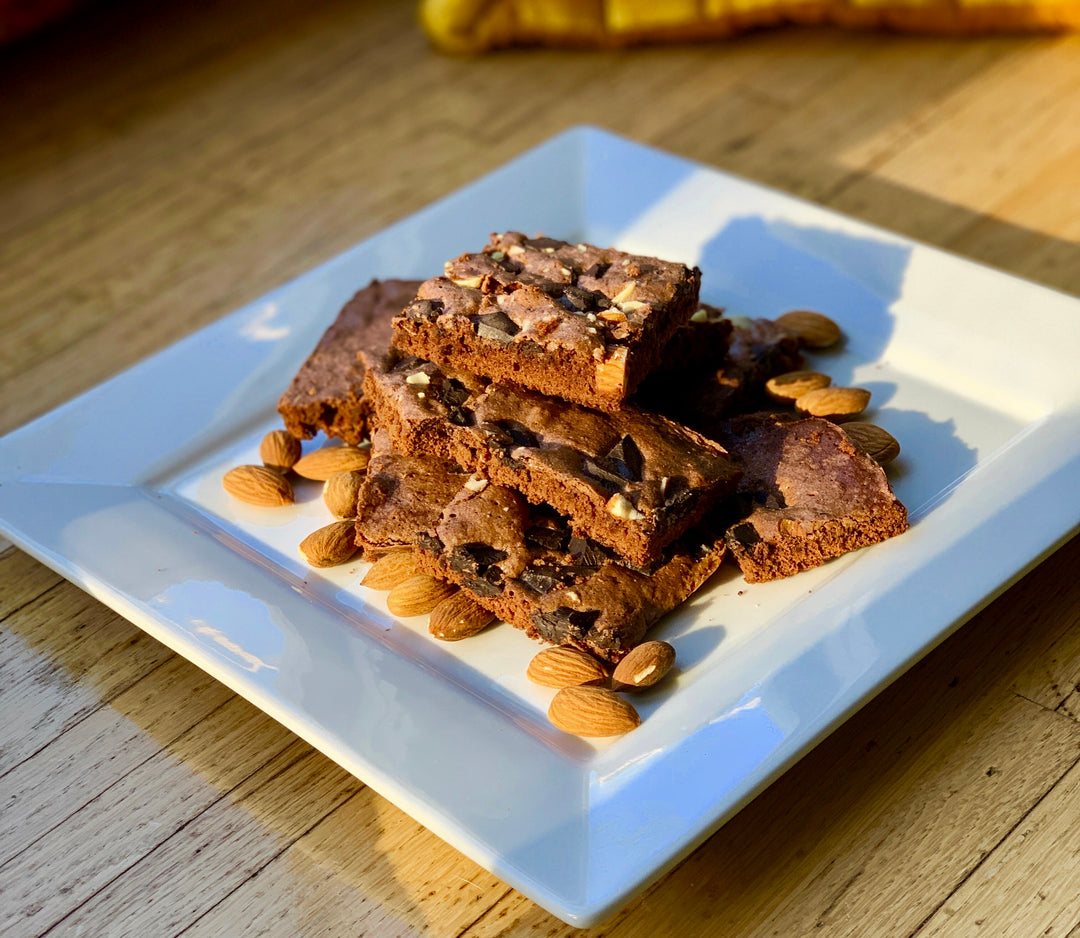 Posted on
---
Quarantine baking has finally begun in full effect! I did previously attempt to make lemon poppyseed pop tarts...but I now know the difference between wax and parchment paper, ha. Here is a simple recipe for some delicious and (lower cal) brownies below.
Ingredients: 
1/2 cup HOT melted, unsalted butter
1 tablespoon olive/coconut oil
1 1/4 cup very fine bakers sugar (regular works as well)
2 large eggs
1/4 teaspoon salt
1/4 cup cocoa powder
2 teaspoons vanilla extract
1/2 cup almond flour(meal), or all-purpose flour
Toppings: chocolate chips, crushed/sliced almonds
 Preheat oven to 350 degrees (Fahrenheit)
Grease 8 sq inch baking pan, line with parchment paper
Mix hot melted butter, oil, and sugar into a bowl, whisk for 1 minute
Add in the eggs and vanilla, whisk for 1 minute (until light and not yellow)
Gently add in flour, cocoa powder, and salt. The key here is getting it all mixed together evenly, and then stop so it doesn't get overworked!
Pour batter into the pan, smooth it evenly, add your toppings! Bake for around 20-24 minutes. You want them to almost seem slightly undercooked, if you stick a toothpick in it should come out dirty.
Let cool for 15 minutes, slice, and enjoy!!
Quick links
Contact
Telephone:  800-398-1043
13501 Cogswell Road
Hickman, CA 95323
info@stackhouseorchards.com
About us
 For over 50 years Rodney and Don Stackhouse have been farming together in the fertile San Joaquin Valley of California. Second generation orchardists, they have spent their whole lives growing only the very best quality fruit and nuts and finding a way to make them available directly to you. This personal, family farm approach ensures the premium quality and consistency you deserve.