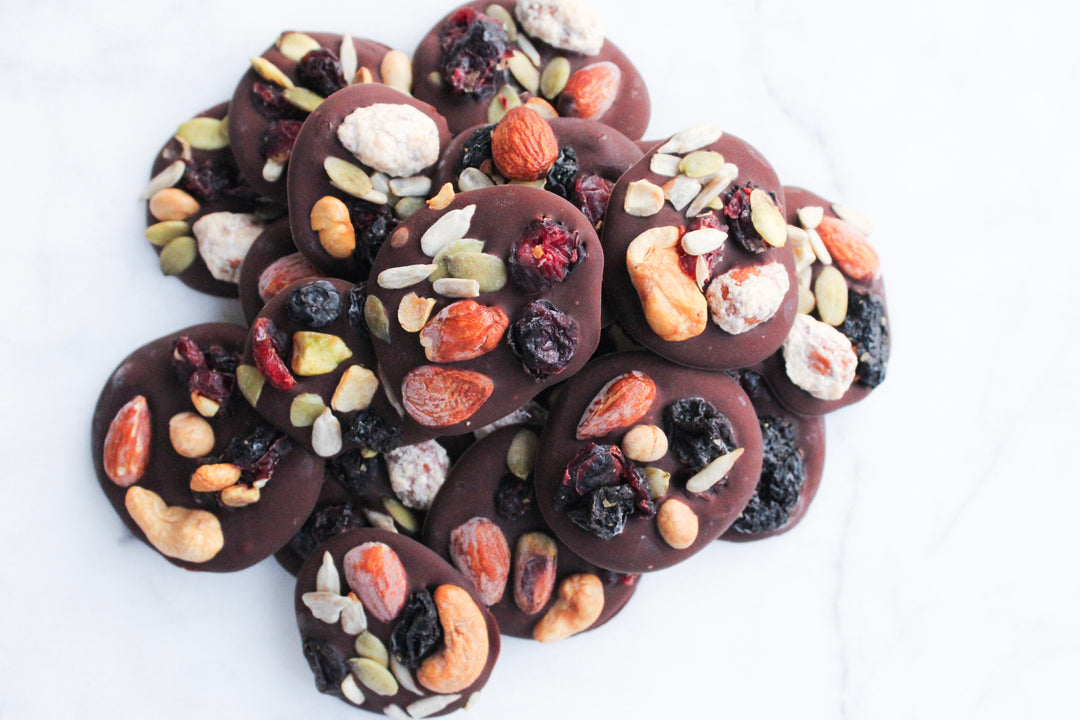 Posted on
---
Trail Mix Bites
1 bag of dark chocolate morsels

Stackhouse Almonds (we used orange honey and natural but you can use basically any flavor as well as cut up the apricots, peaches, or nectarines to put in it as well!) 

Trail mix or whatever items like in your trail mix (for example I hate peanuts in mine so my bites will not have peanuts haha)

Examples of what to put in it (besides the always delicious Stackhouse Almonds) are: raisins, cranberries, pistachios, sunflower seeds, 

soy beans, dried mango, prunes, honestly... whatever you like

Wax paper

Glass bowl
Instructions:
In your glass bowl dump half a bag of your dark chocolate morsels and microwave for 20 seconds to begin and stir the morels.  It might not be melted all the way so continue to microwave in 10 seconds increments and stir each time to break them down. Make sure not to over cook because it can burn.

Once you get your chocolate melted roll out the wax paper on a hard surface like a cutting board or a counter.  

Use a spoon and dollop a spoonful on the wax paper and swirl it into a circle but thick enough so that the trail mix can stick in it (or however big you want them to be).

After you make your chocolate "nest" nustle in the pieces from your trail mix that you want in it.  

After you have made all of your bites place the cutting board or the wax paper flat in a refrigerator or freezer for them to chill.  

Once hardened you can store them in a ziploc OR even better a reusable container.

Enjoy!
Quick links
Contact
Telephone:  800-398-1043
13501 Cogswell Road
Hickman, CA 95323
info@stackhouseorchards.com
About us
 For over 50 years Rodney and Don Stackhouse have been farming together in the fertile San Joaquin Valley of California. Second generation orchardists, they have spent their whole lives growing only the very best quality fruit and nuts and finding a way to make them available directly to you. This personal, family farm approach ensures the premium quality and consistency you deserve.