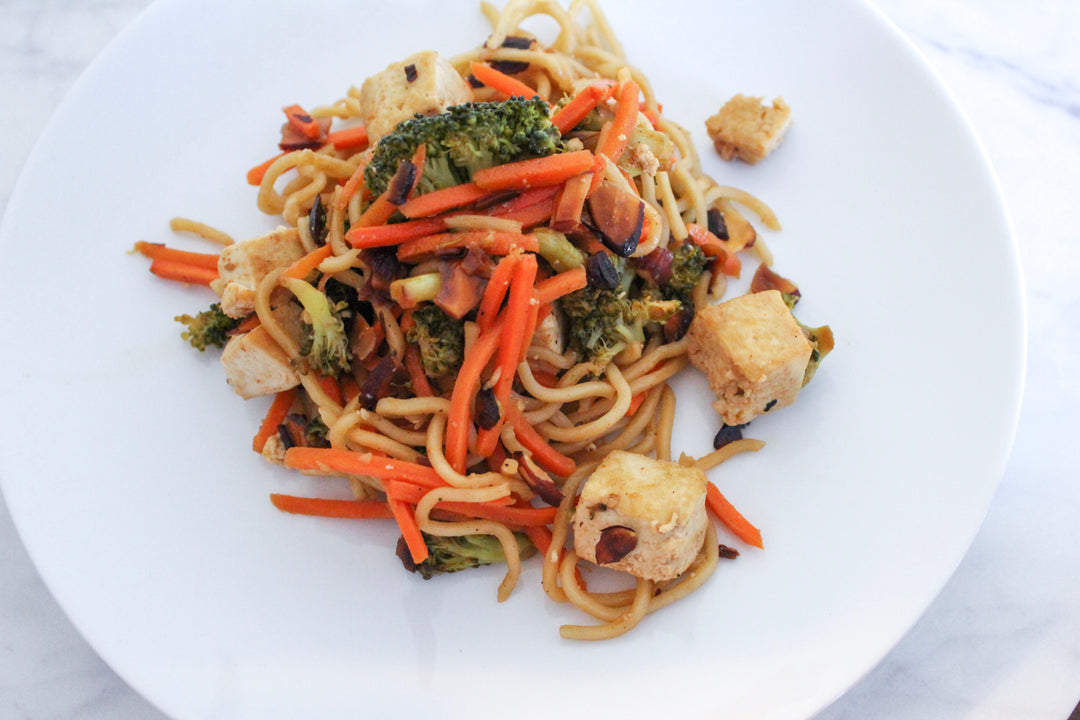 Posted on
---
Ingredients:
Tofu
2 Heads of Broccoli 1
1 Fortune spicy noodle pack
3 Garlic cloves
1 Bag Shredded carrots
Paprika
¼ Cup Sliced Almonds
Dark Soy sauce
Sesame chili oil or just sesame oil
Olive Oil
Directions:
Warm olive oil in pan and add a few cloves of garlic until fragrant

Add the tofu and turn the heat up to medium high

Continue to cook the tofu on each side until they are crispy enough for your liking (baking is also an option)

Preheat oven to 400-450 F degrees

While the tofu is cooking cut up 2 heads of broccoli into bite size florets

Put into a large bowl and drizzle with chili sesame oil (or plain sesame oil) depending on how spicy you want it.  Drizzle the dark soy sauce as well and toss evenly

Line sheet pan with foil and roast the broccoli in the oven for 15-20 minutes

When the tofu is done cooking remove from pan and place to side.

Turn heat down to medium low and add sliced almonds sprinkled in paprika

Brown the sliced almonds and remove from pan.  

Add shredded carrots (and any other vegetables you want) and cook them through

Follow directions on packet to prepare noodles.  The Fortune brand noodles has you rinse the noodles in hot water to break them up or you can microwave them.  

Add ½ cup of water to the pan with the vegetables and add the dry sauce packet and mix vegetables and noodles together. Add the tofu as well

Completely mix all the ingredients until evenly coated.

Enjoy!
Quick links
Contact
Telephone:  800-398-1043
13501 Cogswell Road
Hickman, CA 95323
info@stackhouseorchards.com
About us
 For over 50 years Rodney and Don Stackhouse have been farming together in the fertile San Joaquin Valley of California. Second generation orchardists, they have spent their whole lives growing only the very best quality fruit and nuts and finding a way to make them available directly to you. This personal, family farm approach ensures the premium quality and consistency you deserve.